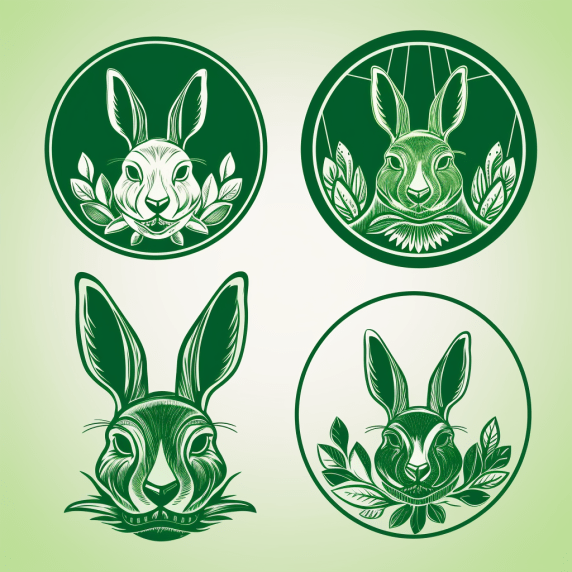 When giving a company, product, or service a new identity, we need to go through a strategic change. Change is always risky, but many times, it is a necessary process that aligns the business with the evolving demands of the market. The rebranding of the name, logo, design elements, messaging, or overall image of your company to create a fresh and updated perception in the market is done by taking careful steps and making informed decisions. Polling and surveying play a significant role in providing valuable insights and feedback that our business, whether small or big, needs to redefine its image, reconnect with its target audience, and differentiate itself from competitors.
Let's explore an example to understand how polling and surveying can be utilized in the rebranding process. Imagine a well-known company that currently uses a logo featuring a green rabbit. However, they have decided to embark on a rebranding journey to revitalize their image and better align with their target audience's preferences and expectations.
To begin, the company can conduct polls to understand how their current logo featuring the green rabbit is perceived in the market. Questions may include inquiries about logo recognition, brand associations, and overall impressions. This initial polling will provide insights into the strengths and weaknesses of the current brand.
Next, the company can gather feedback on various brand attributes to identify what resonates most with their clients. This can involve polling questions about the appeal of the current brand, areas for improvement, and the values and characteristics that clients would like to see represented in the new brand identity.
As the rebranding progresses, the company can present different design concepts and messaging strategies through polls and surveys. They can ask clients to rank logo variations, provide preferences for taglines or positioning statements, and rate proposed color schemes. This feedback will help the company make informed decisions and refine their rebranding concepts.
Moreover, the company can test the new brand elements by conducting polls to gauge market receptiveness. Questions can focus on the likelihood of engagement, the uniqueness and attractiveness of the rebranded logo compared to competitors, and the alignment of the new brand with clients' perception of the company's values and offerings.
In addition to visual elements, polling and surveying can also inform messaging and communication strategies. The company can seek feedback on different brand messages, preferred communication channels, and the perceived alignment of the new brand identity with the company's core values.
Lastly, all these efforts are worth the time and resources, not only in terms of choosing the best new identity, but also because by directly involving clients, your company fosters a positive perception of the brand in general and increases the likelihood of client recommendations.
To read more about business and polling, you can refer to the section "USING ONLINE POLLS TO GATHER VALUABLE CUSTOMER INSIGHTS" in our post "Online Polling Gives Answers to Your Toughest Questions."
---
Read also
AI-powered systems can generate models that predict future trends.